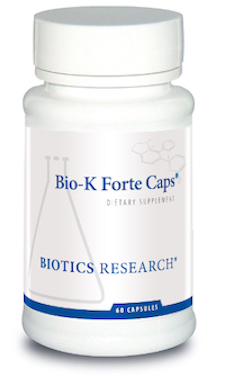 Vitamin K plays several key roles in the body. It is needed for proper blood clotting, aids in the conversion of glucose to glycogen, is required for healthy cardiac and liver function and for providing immune system support. One of its most important functions is to move Calcium from the blood to the bones. An inadequate amount of vitamin K contributes to the buildup of Calcium in the arteries and the development of bone spurs and calcification of the joints. It is especially important to increase consumption of vitamin K to reduce this calcification and to help increase low bone density by moving more calcium into the bones.
Because high dose vitamin D supplementation increases the uptake of calcium, additional vitamin K is needed to move that calcium to the bones. So-called vitamin D toxicity is actually excess calcium in the blood. To prevent any vitamin D toxicity, all that needs to be done is to increase vitamin K intake adequately. Health practitioners suggesting very high dose vitamin D for viral infections, autoimmune diseases and more, find that even at levels of D twice as high as normal, there is no vitamin D toxicity when vitamin K is taken in adequate amounts.
There are two forms of naturally occurring vitamin K. Phylloquinone (precursor phytonadione), known as K1, and menaquionine, referred to as K2. Vitamin K1 can be converted in the body to all the various forms of K2. There are 15 different forms of K2. Supplementing with only MK-4 or MK-7 is not optimal. Vitamin K1 also needs to be included so that the body can convert it to the other forms of K2 as needed.
When it is not converted to other forms, K1 is used in the body for proper clotting, while K2, especially the longer lasting MK-7, is needed for calcium removal from the blood and body to the bones. Supplement manufacturers consider the best form of K2 to be MK-7, which is what is used in Bio-K Forte Caps.
For people who are not dealing with bone loss, calcification of arteries, joints or elsewhere, or who are not dealing with unwanted, non-functional cells, vitamin K1 alone can be optimal to use in a high dose vitamin D protocol. K1 is much less expensive and we suggest using it alone in this case. The Vitamin K Emulsified supplement on this site supplies a very absorbable type of K1, at a low cost.
However, if in poor health or weak, diabetic, with calcification in the body or blood, or not enough calcium in the bones, use Bio-K Forte Caps with its combination of K1 and K2 MK-7. Use a high dose until the calcium is where you need it to be, until you are healthy or no longer dealing with unwanted, non-functional cells (which tend to cause calcium to build up in the blood).
Take one bottle per month of Bio-K Forte Caps, using 2 capsules per day. Use it every day while on a high vitamin D protocol, or on its own. For serious issues, take 2 bottles/month then reduce to one bottle/month.
Each capsule supplies 550 mcg of vitamin K1 and K2 MK-7 in a 10:1 ratio.
Caution: those taking blood thinning medications, such as warfarin, should avoid supplementation with vitamin K unless specifically recommended and monitored by their physician. You may just want to consider getting a K2 only supplement in this case as it doesn't have the clotting action. Pregnant and nursing mothers should avoid supplemental intakes higher than 65mcg unless specifically recommended and monitored by their physician.
Ingredients: Vitamin K (as menaquinone-7 and phytonadione) 550 mcg Superoxide Disumtase (from vegetable culture†) 60mcg Catalase (from vegetable culture†) 60mcg
Other ingredients: Capsule shell (gelatin and water) and magnesium stearate (vegetable source)
Serving Size: 1 Capsule Specially grown, biologically active vegetable culture containing naturally associated phyto-chemicals including SOD and catalase, dehydrated at low temperature to preserve associated enzyme factors.
60 capsules Gluten, dairy and GMO free