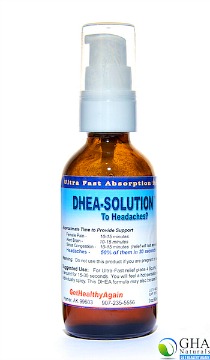 DHEA Solution uses a patent-pending system that delivers DHEA into every cell in the body in about 3 minutes. This method of delivery is much more effective than that of any other DHEA on the market. The solution is taken orally, absorbed into the bloodstream and then quickly carried into the cells (rather than being destroyed by the liver as in most commercially-available DHEA products).

Just spray DHEA Solution directly into your mouth and swish around. Excellent for fast pain relief, especially from headaches and menstrual pain. DHEA Solution is also great for combating sinus congestion, as it acts as an anti-histamine. Also may aid in weight loss, as DHEA solution helps to reduce cortisol levels.

Because DHEA is a powerful hormone, it is not recommended to take for extended periods of time for children or women who are pregnant or breastfeeding.
This 2 ounce bottle contains 75 servings. Each serving (four sprays) supplies 27 mg DHEA and

4.8 mg Pregnenolone

Other ingredients: Vegetable glycerine, Purified water, Ethanol, Natural flavoring, FOS, Erithritol, Stevia
Sorry, we cannot ship this product to Canada.