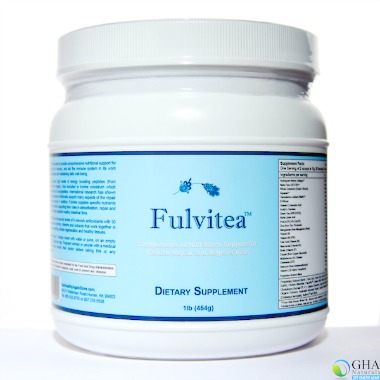 Rebuilding and Revitalizing the body with zero energy output -

One of the common characteristics of a body in distress is that the energy required to recover is no longer available. Fulvitea provides energy without taxing your system - making it the perfect choice for recuperation. It's an all-natural essential protein food supplement that is fully absorbable when added to your preferred beverage.

Within a blend of 30 vitamins, organic herbs and critical antioxidants, Fulvitea delivers therapeutic levels of:

* Predigested peptide proteins - for tissue repair

* Nutraflora - speeding recovery

* D-Ribose - energy boosting

* Colostrum - immune fortifying

* Fulvic Acid powder - to improve nutrient uptake
Fulvitea is one of the few products available which is designed to boost recovery and support system-wide repair of everything from liver damage to tendon repair - whatever your body needs. Its all-natural, energy-boosting nutrients are designed for rapid absorption and immediate delivery. It is a powdered blend containing Hydrolyzed Marine Collagen from wild Atlantic white fish (with undetectable mercury levels) which provides the major building material for growth, repair and maintenance of skin, ligaments, bones, nails and hair.
Each 15 gram, 2 scoop serving supplies:

Hydrolysed marine collagen 3150 mg, NutraFlora 1500 mg, Whole colostrum (Grade A bovine) 1800 mg, Aquamin 1200 mg, Ganoderma Lucidum 540 mg, D-Ribose 500 mg, Vitamin C (ascorbic acid) 450 mg, Acetyl L-Carnitine 450 mg, Green tea extract 40% Epigallocatechin gallate (EGCG) 450 mg, Alpha Lipoic Acid 450 mg, ProCoQ10 45 mg, Zinc (Picolinate) 15 mg,

Manganese (Citrate) 15 mg, Vitamin B6 4 mg, Vitamin B6 (P5P) 18 mg, Folic Acid 4 mg, Niacinamide 15 mg, Biotin 1.5 mg, Copper (from copper gluconate) 3 mg, Molybdenum (AA Chelate) 100 mcg, Chromium (GTF) 188 mcg, Selenium (Selenomethionine) 150 mcg, Vitamin E (D-Alpha Tocopherol) 60 IU, along with a Proprietary Nutrient Blend 4800 mg per serving of: Fulvic acid, Humic acid, Clear Earth (freshwater diatomaceous earth), Choline bitatrate, Pascalite, Organic Milk Thistle extract (80% silybum), Chokeberry (aronia) PE 4:, Organic Cinnamon, Grape Seed Extract (95% proanthocyanidins), Organic Tumeric, Australian Mountain Pepper, Organic Hawthorne Berry Leaf/Stem Powder and Stevia.
There are 30 servings in a 1 pound container.