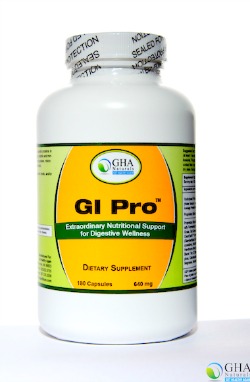 GI Pro is a unique, whole food supplement that offers maximum benefit for the digestive system and overall health! It provides therapeutic levels of OPC's from Grape Seed Extract (95% proanthocyanidins) for their synergistic effect on collagen repair, as well as therapeutic levels of Silymarin from Milk Thistle 80 for its liver boosting effects and protective benefits.
GI Pro's predigested collagen (peptide) protein is an amazing food supplement that allows the body's repair and renewal systems to work more effectively. Collagen protein is the basic building block of healthy cells and without enough collagen, only partial repairs can take place.
Collagen starvation is part of the process of ageing. The hydrolyzed, pre-digested collagen protein in GI Pro is available immediately to the body and offers unique benefits for the intestinal tract. Hydrolyzed Fish Collagen Protein is backed by a 40-year history of safe clinical use. This collagen and the other ingredients that make up GI Pro have been carefully selected to support the rapid repair of damaged intestinal tissue and establish optimum flora balance. 180 capsules
Ingredients per serving: 2,060 mg Hydrolyzed Fish Collagen; Water soluble, undenatured, average molecular weight 3,000 Daltons, Protein/Peptide Content 93% from Atlantic White Fish, Mercury levels undetectable, <0.02ppm

1830 mg Proprietary Blend:

NutraFlora (SCFOS), Australian Greens, ClearEarth from fossilized freshwater plankton, Milk Thistle extract (standardized to 80% Silymarin), Grape Seed Extract (95% proanthocyanidins; 65% OPCs), Hawthorn berry extract, Turmeric, Aulterra (Trace Minerals)

Homeopathic Blend of 12 Biochemic cell tissue salts; Calcarea Fluor, Calcarea phos, Calcerea sulph, Ferrum phos, Kali mur, Kali phos, Kali sulph, Magnesia, Natrum mur, Natrum, Natrum Sulph, Silicea).

USP Kosher gelatin capsules

Free of gluten, soy, nuts and dairy. No fillers, no artificial ingredients.