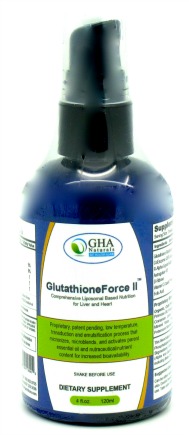 Our Glutathione Force II is formulated for even better absorption and improved antioxidant activity, and is four times the size (120 ml) of the old Glutathione Specialist.
Glutathione is the body's master antioxidant and vital to the survival of every living cell. The age-related decrease in glutathione levels has been directly linked to a shorter lifespan with increased incidence of disease.
As we age, our glutathione levels decrease, allowing toxins, free radicals, and cell damage to accumulate. Lower glutathione levels are implicated in many diseases associated with aging including Alzheimer's, Parkinson's, atherosclerosis, cancer, cataracts, and anemia.
It plays a vital role in the detoxification of many organic and inorganic toxins. It is a vital component of the immune response. Glutathione deficiency can induce the destruction of red blood cells which leads to anemia. A deficiency may also cause oxidative stress in cells as it is not available to neutralize the free radicals they produce.
Conversely, high levels of glutathione have been directly linked to a longer lifespan with less incidence of disease. In animal studies, an increase in glutathione status has been shown to increase lifespan by as much as 38%. In human studies, it has been linked to multiple areas of wellness and quality of life.
Glutathione is not easily absorbed. It is broken down by the liver and by the digestive system. The most effective way to take it is to use a liposomal delivery system, hiding it in fat molecules so as to avoid digestion. Cells gobble up the fat and the glutathione and other nutrients are released in cells.
Glutathione Force focuses on improving cellular health and increasing the production of energy in cells by the mitochondria. Not only does it bring glutathione into cells, but it also carries in CoQ10 and R-Alpha Lipoic Acid, and many other cell nutrients that improve cellular health, and the health of your heart and your liver.
Serving 1 tsp or 4g or 24 pumps. 25 servings per container 4 fl. Oz. Bottle Ingredients: Glutathione Reduced (Liposoluble) 65 mg, CoEnzyme Q10 (Liposoluble) 50 mg, R-Alpha Lipoic Acid (Liposoluble) 33 mg, Astragalus 4:1 33 mg, D-Ribose 65 mg, Vitamin C (QualiC non GMO) 80mg, Folic Acid 65 mg, Vitamin: B12 (Methylcobalamin 500mcg and Cyanocobalamin 390 mcg), B1 (thiamine) 250 mcg, B-2 (Riboflavin) 660 mcg, Nacin (flush free) 8mg, Pantothenic Acid 12mg
Proprietary Blend of Organic, cold pressed, non GMO and full spectrum: Black Cumin seed oil, Evening Primrose oil, Pumpkin seed oil, Sunflower seed oil. Organic Essential oils: Orange, Cinnamon, Lime, Clove, Peppermint Blending agents: Purified structured mineral water, Sunflower Lecithin, Xylitol (from US hardwoods) organic Stevia, Postassium Sorbate, Citric Acid. This blend will naturally supply: Phosphatidylcholine, Phosphatidylserine, conjugated Linoleic Acid, Eicosanoic Acid, Stigmasterol, Campesterol, Palmitic Acid, Stearic Acid, Beta-Sitosterol, Vitamin E (Alpha and Gamma Tocopherol and other Phenolic compounds), Tocotrienols, Carotenoids, including Beta Carotene, Proanthrocyanidins, Polyphenols, Vitamins and Minerals
4 oz bottle.