The liver plays dozens of roles in immune health. It repackages nutrients, it produces and releases hormones and it breaks down toxins for elimination and manufactures protein structures for hormones, enzymes, neurotransmitters and tissue repair. It is central for overall strength and good liver support is vitally important, especially for children with compromised digestive systems. One consequence of liver stress is insufficient bile production. Bile, produced by the liver, (but stored in the gall bladder,) emulsifies fat which allows for its proper digestion. Bile is also important in preventing constipation, candidiasis, and helps provide the correct environmental pH for beneficial gut flora to flourish. Bile also helps reduce food allergy and food sensitivities. Other symptoms of liver stress include dark eye circles under the eyes and skin issues such as eczema and dermatitis.
UltraLiver12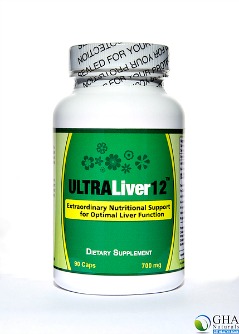 UltraLiver12 builds upon the established antioxidant combination of alpha-lipoic acid, silymarin and selenium originally developed by Burt Berkson M.D. for the highly successful treatment of hepatitis C and acute liver degeneration. It brings together therapeutic levels of these 3 much researched hepato-protective nutrients, in their most effective and absorbable forms, with the addition of 5 other liver protective antioxidants including a patented German CoQ10. In addition to antioxidants UltraLiver12 provides cell membrane stabilizing agents, bile secretion enhancing compounds, and nutrients that prevent depletion of endogenous antioxidants such as glutathione.
UltraLiver12 works to protect the liver from free radical damage, increase the levels of other fundamental antioxidants, interfere with virus proliferation and provide your liver with comprehensive nutritional support.
Antioxidant Blend Ingredient Amount RDA% Bio-Enhanced® Alpha Lipoic Acid (Na-RLA, equivalent 40xRLA) 167 mg, Organic Milk Thistle (Standardized to 80% Silymarin) 333 mg, Selenium (from Selenomethionine) 330 mcg 600%, ProCoQ10 (18xCoQ10) 50mg, Artichoke Leaf Extract 167mg, N-Acetyl-L-Carnitine HCL 167mg, N-Acetyl Cystein 167 mg, Vitamin B6 (as pyridoxal 5-phosphate) 45mg 350%,
Proprietary Blend: 1,045mg
Ganoderma Lucidum (Reishi), Organic Turmeric, 10-Green Probiotic Culture (All Organic and Naturally Fermented): Kelp, Barley Grass, Spirulina, Wheat Grass, Alfalfa Grass, Oat Grass, Yam, Agave, Chlorella and Dunaliella Salina, Proline Rich Polypeptides from Bovine Colostrum, Burdock Root 4:1, Sprouted Broccoli Seed Extract, Aulterra (Trace Minerals) $97.00 or 3+ $92.00 each
Serving size: 3 Capsules (2,100mg) Servings per container 30
Liver Detox Pathways elixir

The instructions in this elixir optimize the function of the detox pathways in the liver. The focus is on upgrading or down-regulating the Phase 1 detox pathways that pull toxins from the blood to be removed by the liver. If more toxins are removed by the Phase 1 pathways than the Phase 2 detox pathways can handle, those toxins can damage the liver, and eventually other areas in the body as well. This is very common. There are various Phase 2 detox pathways that handle different types of toxins.
Liver Detox Pathways Elixir is a frequency-enhanced, energized elixir containing vibrational frequencies that encode a set of instructions that are communicated directly to the body when the product is taken. Unique and proprietary technology is used to amplify the very subtle vibrations of these instructions to the point that the cells in your body are able to respond.
Liver Detox Pathways Elixir instructs the body to improve the function of each of these pathways, to make more of the enzymes needed for these pathways to function properly, so that your liver can remove toxins from the body most effectively.
Typically one or two bottles per month is used, but as much as four to six bottles can be used in extreme situations.
2 ounce dropper bottle. Use 1 to 6 bottles a month. Ingredients: The base of all the elixirs is purified spring water, organic orange and rosemary essential oils. The oils help the vibrational frequencies encoded in the water work more effectively. The technology used to make these elixirs creates a stable concentrated energy that transfers instructions to your body. $39.95 or, $36.95 each for 3+ bottles
LiverBalance Plus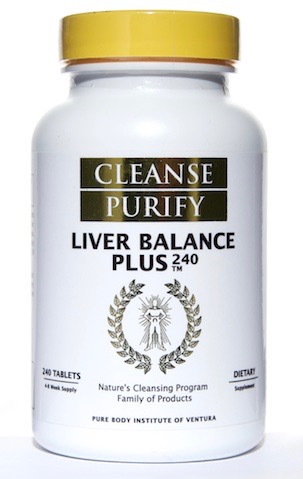 Liver Balance Plus is a potent liver support herbal formula that both detoxifies and rebuilds the liver gently and effectively. 240 tablets 100% gluten free
Ingredients: Proprietary-Blend of Bupieurum Root, Dong Quai Root, Tribulus Terrestris, Dandelion Root, Atractylodes Root, Peony Root, Ginger Root, Poria Cocos Selerotium Root, Licorice Root, Chinese Mint Leaf, Hyssop Leaf, Chamaelirum Luteum Root, Cayenne Fruit. Other Ingredients: Dicalcium phosphate dihydrate, stearic acid, croscarmellose sodium, silicon dioxide, magnesium stearate. Contains no yeast, soy, sugars, starch, colorings, dyes or flavorings.
$51.95