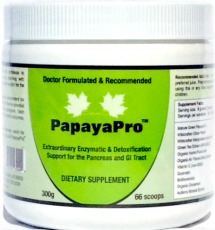 PapayaPro engages seven power-packed fruit complexes to support extraordinary levels of whole body cleansing with advanced nutritional support for the anti-inflammatory, anti-infective and detoxification processes.
Doctor formulated to interfere in the replication process of unwelcome visitors, PapayaPro has the potential to knock-out even the most deep seated pathogens. Each refreshing scoopful delivers mega amounts of powerful enzymes, antioxidants and phytonutrients. On it's own or as a compliment to other treatments, watch for positive change in every body system when you add PapayaPro to your daily nutritional support regimen.
Very Sorry but Cannot Ship To Australia .
Ingredients: Mature green papaya 3,375 mg, wildcrafted citrus pectin 3,375 mg, wildcrafted mangosteen 1,406 mg, Green Tea Extract; humic/fulvic acid 280 mg, vitamin C 140 mg, Quercetin 140 mg, bioflavanoids 140 mg, organic cinnamon 140 mg, Aulterra mineral extract 12 mg. 300g
NOT FOR USE BY THOSE WITH LATEX ALLERGIES as papaya is a latex-producing plant.