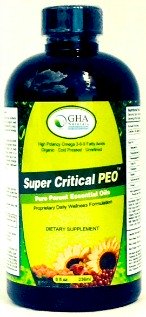 "The sun's rays are very much in harmony with healthy humans. It is no coincidence that we love the sun. The resonance in our biological tissue is so strongly tuned to the absorption of solar energy that physicists who occupy themselves with this scientific phenomenon, the quantum biologists say that there is nothing on earth that has a higher concentration of solar energy photons than humans.
New Improved Formula
The 3 to 1 ratio is best for overall health. It has a history of being vital for good health.
Super Critical PEO blend has the correct ratio of Omega-6 to Omega-3 essential fatty acids plus, it has been frequency enhanced to make it even more useful and bio-available in the body.
Super PEO is a proprietary, nutrient dense, organically crafted, Parent Essential Fatty Acid Oil blend. It comes in a 8oz bottle which provides a months supply (6 grams daily) of the most biologically active PEO's that you can find anywhere.
Each bottle represents the healing force of literally hundreds of pounds of organic and wild crafted vegetable source oils. No heat, No chemicals Ð just experience, skill and care applied to beautiful seeds. Included are therapeutic levels of the following PEOs, combined to provide you with the perfect Peskin PEO 3 to 1 ratio. In addition, essential oils are added to protect the oils from oxidation damage.
Super Critical PEO contains the following oils:
1. Cold pressed organic Black Cumin Seed Oil has been used for centuries to promote health and fight disease. Hundreds of medical studies have been published in the Middle East, Asia and Europe focusing on its immune strengthening, anti-histamine, anti-tumor, anti-microbial, and anti-inflammatory activity. This cold pressed oil is exceptionally high in antioxidants and contains thymoquinone, nigellone and beta-sitosterol, a plant sterol known to lower serum cholesterol. The oil is more than 80% unsaturated essential fatty acids with abundant nutrient cofactors that protect the oil and those who consume it.
2. Evening Primrose Oil (organic), coined the Kings Cure-All in the 1700s, has remarkable anti-inflammatory and anti-oxidant properties and is especially crucial to womens reproductive health. (Used as per Peskin recommendations.)
3. Black currant seed oil (BCSO), also known as Ribes Nigrum, is an unique nutrient rich oil that is often overlooked. Like Black Cumin Seed Oil, Evening Primrose and Borage seed oil, it is an excellent source of GLA (gamma-linoleic acid), which is an essential fatty acid used to treat a variety of ailments, from diabetes and ulcers to allergies and cancer. GLA is also powerful anti-inflammatory, which can be used to treat the swelling and pain associated with arthritis, as well as gastritis, which is inflammation of the stomach.
A report from the American Association of Anti-aging Medicine states that black currant seed oil works against inflammation by stimulating the production of prostaglandin-1, an anti-inflammatory hormone. As we age, there is an increase of the production of prostaglandin E2 in the body. While this compound is necessary for functions such as muscle contraction, if there is too much of it, it can have negative effects on the immune system, and increase the risk of age-related diseases. The National Institutes of Health reports a study that shows that supplementation with black currant seed oil helps to suppress the production of prostaglandin E2, thereby boosting the immune system function of the aging. Another distinct benefit of black currant seed and (black cumin seed) oil is its anti-viral properties. A study published in the February 2003 issue of "Phytotherapy Research" shows that BCSO is particularly protective against the influenza virus. Researchers in Japan state that not only was the growth of influenza A and B completely suppressed when exposed to BCSO extract, the extract also prevented the virus from being released from the infected cells and spreading further.
4. Both Camelina seed and Flax seeds are an ancient food source known for providing sustained energy over a prolonged period of time. They have been recognized as a super-food for hundreds of years, and these nutrients are absorbed by the body in oil form. Organic Cold Pressed Camelina Seed Oil and Cold Pressed Flax Seed Oil have among the highest (quality) omega-3 contents of any plant. Omega 3 can be converted into DHA (as needed) in the body and is essential in brain and nervous system functions. Camelina oil contains a somewhat rare to find fatty acid called gondoic acid in significant amount, about 15%. This fatty acid possesses the ability to improve lipid profile. Camelina and flax seed oils also contains many phytosterol compounds that have powerful health benefits
5. Cold pressed organic Hemp Seed Oil also provides an ample supply of carotene, phytosterols, and phospholipids, in addition to a large number of minerals including: calcium, sulfur, magnesium, phosphorus and potassium. It is also a good source of chlorophyll. Using Hemp seed oil alone can also improve energy levels, blood pressure, regularity, cholesterol levels, hair, finger nails, and help ease joint and arthritic pains.
6. Cold pressed Borage Seed Oil is a rich source of antioxidants and proanthrocyanidins with anti-bacterial adhesion properties. Borage, or starflower plant, produces seeds that are a rich source of the essential gamma-linolenic fatty acid, or GLA. Borage oil has a reputation for alleviating symptoms of autoimmune disorders, skin disorders, premenstrual syndrome and cramps, diabetic neuropathy and other inflammatory conditions. Of all of the autoimmune disorders that borage oil is reputed to help, studies related to rheumatoid arthritis show the most promise to date. The authors of a study published in the ''American Journal of Clinical Nutrition'' analyzed the data from many trials, including their own, concluding that GLA in oils such as borage could provide symptom relief and possibly reduce the need for painkillers. Atypical dermatitis, psoriasis and eczema can be stubborn disorders that are often unresponsive to prescription medications. Borage oil, taken internally and used topically, has been used for soothing these and other inflammatory skin conditions.
7. Cold pressed organic Sunflower Seed Oil differs from mass produced sunflower oils which are extracted using damaging heat and chemicals. Cold pressing preserves natural antioxidants and nutrients. Sunflower seed oil has higher vitamin E content than many vegetable oils with high levels of unsaturated fat.
8. The addition of organic essential oils from Orange, Lime, and Lemon further enhance the benefits of this blend. These oils derived from the fruit peel are antiseptic, anti-depressant, antispasmodic, anti-inflammatory, add delicious flavor and protect the blends freshness and stability.
9. Essential oil from Organic Peppermint is excellent for mental fatigue and depression, refreshing the spirit, stimulating mental agility and improving concentration. For the digestive system, peppermint oil is effective for a range of ailments, as it stimulates the gall bladder and the secretion of bile.
10. Our added essential oil of Organic Cinnamon's benefit lies in its toning and calming effect on the respiratory tract, the nervous system, and in the easing of pain associated with rheumatism and arthritis. It also provides even more properties to protect freshness and effectiveness and broaden the wide spectrum of the healing potentials within these carefully crafted plant-based Parent Essential Oils.
Per 2 tsp serving Super PEO supplies:
Omega 3 fatty Acids 1200 mg
Omega 6 Fatty Acids 3600 mg
Omega 9 Fatty Acids 1990 mg
Gamma-Linolenic Acid (GLA) 750 mg
8 oz for $67.00