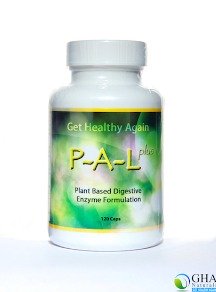 This digestive enzyme is a great value. Each capsule contains:
For Protein Digestion:
Protease 60,000 HUT

Neutral Bacterial Protease 40,000 PC

Pancreatin 8X 30,000 USP

Acid Stable Protease 100 ASPU
For Carbohydrate Digestion:
Pancreatin 8X 30,000 USP

Amylase 20,000 SKB

Bacterial Amylase 10,000 BAU

Lactase 2,500 ALU

Cellulase 1,000 CU

Alpha Galactosidase 150 GALU
For Fat Digestion:
Lipase 12,000 LU

Proprietary Mineral Blend 50mg.
With 120 veggie capsules in a container, you get more Protease, Lipase and Cellulase per bottle for less money than any enzyme we have come across. Take 1 or 2 with each meal. Three could be taken on an empty stomach to clean the arteries.
120 capsules